Bahrain court gives police killers death sentences
Comments
By
Euronews
with
Reuters, Bahrain Center for Human Rights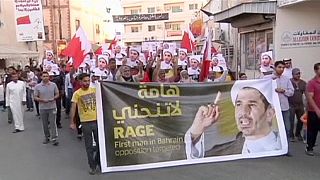 A court in Bahrain sentenced two Shi'ite Muslim men to death and handed a third a life sentence on Monday after they were convicted of killing a police officer.
Sporadic protests have erupted and occasional bomb attacks have taken place in the Western-allied kingdom since the government quelled mass protests in 2011 led by Shi'ite Muslims demanding reforms.
The verdict was announced by the chief prosecutor of terrorist crimes who said that the three were among 12 people charged with a bomb attack in February that killed the policeman Abdel-Wahed Sayed Mohammed Faqeer in the village of al-Dair, north of the capital Manama.
The court sentenced the remaining nine suspects to six years in jail and fined them 1,000 Bahraini Dinars (equivalent to 2,180 euros) each, according the official Twitter account of Bahrain's Public Prosecution.
Bahrain News Agency | Two defendants sentenced to death for killing police officer http://t.co/6LzCGxYy8i

— Bahrain News Agency (@bna_en) December 29, 2014
The court ruling, which is subject to appeal, is only the fourth time in over 34 years that death sentences have been passed on Bahraini citizens.
It came a day after authorities detained Sheikh Ali Salman, head of the main Shi'ite Muslim opposition group al-Wefaq, who led a peaceful rally last week to denounce Bahrain's November elections which were boycotted by the opposition.
According to the Bahrain Centre for Human Rights, the Ministry of Interior is accusing Al-Salman of "inciting hatred against the government and calling for its overthrow by force".
In apparent reference to Sheikh Salman's detention, Shi'ite regional power Iran said on Monday that intensified security measures would further complicate matters in Bahrain, where the Shi'ite majority demands greater social, political and economic equality with the ruling Sunni minority.
"Instead of resorting to worn out tactics, the authorities in Bahrain should initiate trust and pave the way for serious dialogue between the people and the rulers," Iran's Foreign ministry spokeswoman Marzieh Afkham was quoted as saying by the state news agency IRNA.
Bahrain, where the US Fifth Fleet is stationed, has accused Iran of fomenting unrest in the country, a charge Tehran denies.