Father of Jordanian pilot captured by ISIl pleads for his release
Comments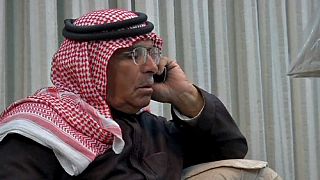 The father of a Jordanian pilot captured by Islamic State militants in Syria has appeared on TV pleading for his son's release.
Safi al-Kasaesbeh urged the captors to return him to is family, wife and mother safely and to show 'hospitality' towards his son.
"Now he is in the hands of Islamic State fighters and I do not want to describe him as a hostage, I call him a guest. He is a guest among brothers of ours in Syria's Islamic State. I ask them in the name of God, and I ask with the dignity of the prophet Mohammed, peace be upon him to receive him as a guest at his hosts' and treat him well," he said.
Twenty seven-year-old First Lieutenant Muath al-Kasaesbeh was taken prisoner after his warplane came down in northeast Syria, near Raqqa, an area occupied by ISIL.
He had been taking part in a coalition air raid on December 24.
There are contradictory accounts as to whether his aircraft was shot down or not.
He is the first captive to be taken from the U.S.-led coalition.