Sydney siege: "This guy appears to be a lone actor" says terrorism expert
Comments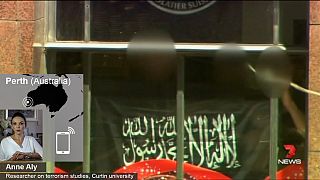 Australian police have released the identity of the suspected gunman at the centre of the siege in a Sydney cafe as Man Haron Monis. An Iranian refugee, he has been convicted of sexual assault and is known for sending hate letters to the families of Australian soldiers killed overseas.
This guy appears to be a lone actor. Soon we will find out if this is just a guy with grievances.
Little is known about his motives, but the hostage situation has thrown a light on the growth of terror threats in Australia. Euronews spoke to an Australian expert on terrorism, Anne Aly from Curtin University Perth and asked her whether extremism was on the rise.
"It is definitely growing in the past year or so in particular with the rise of 'daesh' or Islamic State. Their narrative might have just reached Australia.
"This guy appears to be a lone actor. People within the Muslim community have not been able to identify him. I don't think that this is an organised attack.
"Soon we will find out if this is just a guy with grievances."