Prosecutors to appeal Pistorius verdict
Comments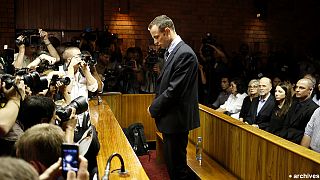 State prosecutors in South Africa have won the right to appeal the culpable homicide verdict handed down to Paralympic track star Oscar Pistorius.
After a seven month trial the double amputee was sentenced to five years in prison for killing his girlfriend Reeva Steenkamp.
Pistorius shot Steenkamp on Valentine's day 2013 through his bathroom door in what he said was the mistaken belief it was an intruder.
Prosecutors described his sentence as "shockingly inappropriate".
They are now seeking, from the Supreme Court of Appeal, a murder conviction which would carry a minimum 15 year jail term.