Ireland, France and South Africa vye to host Rugby World Cup
Comments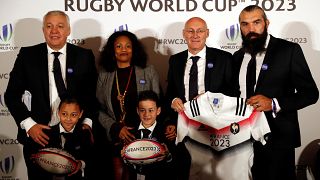 South Africa, Ireland and France have launched their bids to host the 2023 Rugby World Cup.
Having already secured the 2024 Olympics, France says its facilities will benefit both athletes and audiences alike.
"It's only in sport that you find this positive energy, so we want to use and to crystallise good behaviours, to be able to host (events) and to be proud of our candidacy," said French Sports Minister Laura Flessel.
Ireland says it'll offer so much more than memorable sporting moments on the field.
Jonah Lomu's sons make emotional plea for France to be awarded the 2023 Rugby World Cup https://t.co/AKHfe72BF1pic.twitter.com/A2aeZCtacg

— Independent Sport (@IndoSport) September 25, 2017
Former Ireland captain, Brian O'Driscoll, who's the ambassador for the bid said: "They'll get tough rugby when they play against the host nation, but they know that they'll share a drink afterwards and the spirit and camaraderie of what makes rugby great, I think that is epitomised within Ireland. All the hallmarks and all the things that World Rugby is looking for in keeping the game going and the values that they have, Ireland really does epitomise them."
Great when a Kiwi argues that SA should host the 2023 Rugby World Cup. https://t.co/WXKLlfpThr

— Michael Jordaan (@MichaelJordaan) September 25, 2017
The World Cup board will announce its recommendation on October 31st with the sports governing body having the final say two weeks later.