Vonn and Gut shine at Lake Louise as Jansrud impresses at Beaver Creek
Comments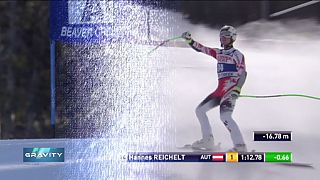 Welcome to Gravity our weekly programme about the world of winter sports, in particular alpine skiing.
Lindsey Vonn bagged her first victory in 22 months in the downhill at Lake Louise, but the American star had to move over for Swiss sensation Lara Gut in the super-G.
It was the first super-G race of the new World Cup season and true to form defending champion Lara Gut celebrated top honours.
The Swiss skier ended her weekend in Canada on a very high note after an 11th place finish in Friday's first downhill and then 15th in Saturday's second.
It was the 23-year-old's tenth World Cup victory and it lifts her from 27th to 12th in the overall standings.
After almost a year on the sidelines American Lindsey Vonn won Saturday's downhill.
But the four-time overall World Cup champion had to settle for second place in the super-G.
Vonn crossed over 0.37 second behind to continue her fine return to action.
Rounding off the podium in third place was Friday's downhill winner Tina Maze of Slovenia.
The two-time Sochi Olympic gold medallist and 2013 overall World Cup champion was 0.81 seconds off the winner's pace.
She does however remain at the top of the overall World Cup standings 117 points clear of Anna Fenninger who was 8th on the day.
Analyze this
Last Sunday our expert Franck Piccard was correct in his prediction that Vonn would return to winning ways. Today the former Olympic champion speaks about physical preparation needed throughout the summer ready for the winter.
Piccard said: "Alpine skiing is an incredible sport because it requires skill in all the disciplines. You need endurance, speed, muscle development, balance and you need to be able to find your balance mid-air also. You can't work on all of these things on skis or only on skis. You need to acquire them by parachuting, snowboarding, surfing, endurance work etc. Until you go through these steps of preparation you will have trouble skiing well at this level."
At the summit
For three days the best male skiers on the planet have hurtled down the "Birds of Prey", the stunning course at Beaver Creek where the World Championships will take place next February. Three races, three disciplines and three winners.
Kjetil Jansrud kick started the weekend by capturing his third consecutive race in the Beaver Creek downhill.
Winner of both events in Lake Louise the previous weekend, the 29-year-old Super-G Olympic champion crossed over head of Switzerland's Beat Feuz and local favourite Steven Nyman.
He remains at the top of the general world cup standings.
Jansrud was denied a fourth consecutive world cup victory when Austrian Hannes Reichelt won his first race since back surgery forced him to withdraw from the Sochi Olympics in February.
34-year-old Reichelt won the Super-G race for his eighth career World Cup triumph.
Jansrud came home in second while France's Alexis Pinturault rounded out the podium.
There was no podium placement for Jansrud in Sunday's giant slalom.
American Ted Ligety triumphed in weekend's final race at Beaver Creek.
Over the two runs the double Olympic champion beat Pinterault and Austrian Marcel Hirscher in third.
Skiing past
On December 7 1975 Ken Read sprung a surprise in Val d'Isère, in the Savoie region, by becoming the first North American male to win a Downhill World Cup race.
The young Canadian stunned the big guns including Franz Klammer, who at that time was undefeated in the discipline for 310 days.
Two weeks later compatriot Dave Irwin won in Schladming to confirm the days of downhill dominance by Europe's heavyweight ski nations was over.
The secret of Read and Irwin and also Davie Murray and Steve Podborski was all out risk taking which led to the foursome's nickname of "The Crazy Canucks".
It's Snowtime
The World Cup circus was next scheduled for races at Courchevel and Val d'Isère, the venue of Read's maiden win. But a lack of snow forced the Giant slalom and slalom events to be moved to Are in Sweden. We will cover the races on next week's edition of Gravity. In the meantime here's a selection of the best footage from this weekend's action. (Check clip above)