Pope sends message of support to Christians and other minority groups in Iraq and Syria
Comments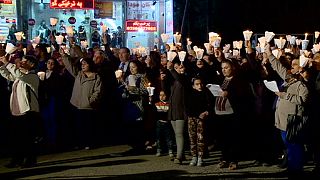 European church leaders including the Pope have sent a message of support to Christians refugees in the Iraqi city of Erbil.
The Archbishop of Lyon, Cardinal Philippe Barbarin, flew to Erbil along with 1700 candles to lead a procession inspired by the annual Festival of Lights taking place in his own parish this weekend.
Many of the marchers had been forced to flee their homes to escape Islamic State militants.
"I would like to thank the Pope for all his support and we will never forget it", said one woman.
In a video message to a gathering in the city centre the Pope condemned what he called the 'extremist fundamentalist group' ISIL for forcing thousands of people into exile. Francis added that minorities in the region had left 'everything behind to save their own lives without betraying their faith'.
He also described the violence of ISIL as inhuman.
Our correspondent at the event said the organisers of the Festival of Lights in Erbil described the project as a little crazy, but that at least for a few hours the Christian refugees had managed to put aside some of their pain and experience some peace and serenity. Their highlight of the day was the Pope's message, and they hope to relive the festival next year, but in their own homes.