Pope delivers message in support of Christian and Yazidi refugees
Comments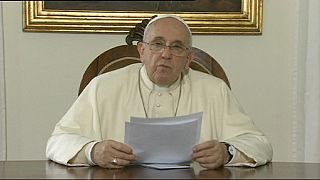 Pope Francis has delivered a video message in support of tens of thousands of minority Yazidi and Christian refugees who fled ISIL militants in August, many of whom escaped to Erbil.
The pope addressed the crowd in Erbil as the Archbishop of French city Lyon visited the capital of Iraq's Kurdistan region to show his support for the region's Christians.
"Christians and Yazidis have been forced out of their homes, they have had to abandon everything to save their lives, but they have not denied their faith," said Pope Francis.
"As religious leaders, we are obliged to denounce all violations of the human dignity," Francis added.
The Archbishop of Lyon's 48-hour visit to Erbil comes as the winter gets tougher for the refugees and also as the Feast of the Immaculate Conception, on December 8, approaches.