Euronews visits Christian and Yazidi refugees who fled ISIL militants
Comments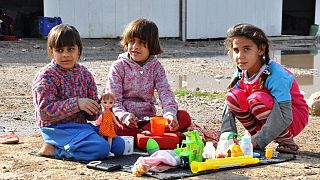 Euronews has visited Irbil, the capital of Iraq's Kurdistan region.
When the militant group that calls itself Islamic State (ISIL) attacked the Sinjar region in August, thousands of minority Yazidis and Christians fled up Mount Sinjar, a strip of land some 65 kilometers long.
Hundreds of the fleeing refugees were executed, according to Iraqi officials and witnesses, by ISIL militants who see Yazidis as "devil worshippers". A senior UN rights official said the onslaught looked like "attempted genocide".
Although estimates suggest between 1,000 and 10,000 people remain trapped on Mount Sinjar, many escaped to the safe haven offered by refugee camps in Irbil.
Euronews visited one refugee centre .that is home to 400 families. When they first arrived they stayed in a cramped church hall before being moved into tents.
"This is no way to live," explained Mostha. He told our correspondent: "We do not want to live like this. We want to immigrate, all of us. I have to look for water far away behind that building every day. My back hurts me. We do not want to live here."
A few minutes drive away, 45 families live at a youth centre with more on the way.
Many living at the centre fled Qaraqosh, the largest Christian town in northern Iraq's Nineveh province, after it was seized by ISIL.
"All I want is to go back to Qaraqosh," said Michael Karomi, "even if everything in our homes was looted. We want to return to our homes, our religion, our churches.
"They forced us to flee, left us without clothes without food or water," he added, fighting back tears.
Euronews correspondent Raphaele Tavernier reported: "They have left the camps to come to this building,which is still not yet finished. It makes the lives of Christians and Yazidis a little more bearable after facing the harsh reality of being forced from their homes. What is perhaps striking are their smiles, their resilience. They ask for nothing. Their message is 'Pray for us.. help us to return home'."