Migrants charge Spain's Melilla enclave
Comments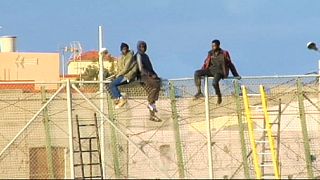 Hundreds of migrants have tried to storm the border between Morocco and the Spanish enclave of Melilla.
A first group of around 150 tried to cross the border and about 30 managed to scale the fence; three others remained perched on top.
A second group of some 500 then approached a separate part of the barrier but were kept back by security forces.
The number of attempts to enter Europe via Spain's north African territories has increased.
The authorities accuse human traffickers of bringing migrants to the border.