As funds dry up UN cuts aid to 1.7 million Syrian refugees
Comments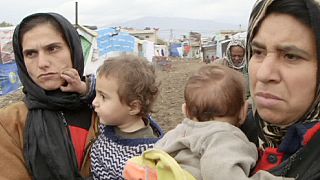 The world is facing a major humanitarian crisis due to a lack of funds.
The United Nations World Food Programme announced it has been forced to suspend assistance in the form of food vouchers to more than 1.7 million Syrian refugees.
The vouchers are a lifeline to those displaced by the Syrian conflict across the Middle East.
The UN needs $64 million for December alone.
Syrians currently in Lebanon are already in dire straits:
"Oh God, we are freezing to death. I don`t have any blankets. A neighbour gave me a piece of foam for my baby to sleep on and another one on which three children sleep."
"It's freezing in the tents even when we light the heaters. As you can see there is mud everywhere. I have been in Lebanon for one year. I survive thanks to the UN food vouchers. I have nothing else."
The UN says funding pledges have not materialised and donor fatigue is an issue.
The conflict in Syria began in 2011.