Fresh protests across US as fury over Ferguson spreads
Comments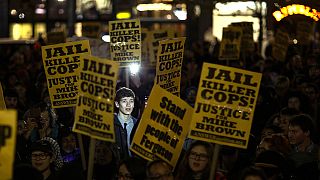 Across the United States there have been new protests over a grand jury's decision not to charge a white police officer with killing an unarmed black teenager.
In Ferguson, some 2,000 National Guard troops were employed to prevent a second night of rampant arson and looting in the St Louis suburb.
The scene on the streets was similar in the capital Washington DC, where hundreds marched, crippling traffic on several roads near the White House.
In New York, police used pepper spray to control the crowd after protesters tried to block the Lincoln Tunnel and Triborough Bridge and descended on Times Square.
In total, fresh demonstrations were held in a dozen cities, as anger spread, highlighting the often tense nature of US race relations and strained ties between African-American communities and the police.
President Barack Obama has renewed his appeal for dialogue and his attorney general has promised a rigorous federal probe into the fatal shooting of Michael Brown.