Ferguson: Brown family lawyers slam grand jury decision
Comments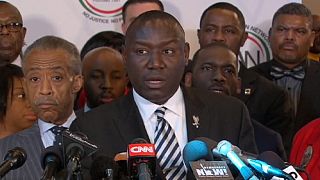 Lawyers speaking on behalf of Michael Brown Jr's family have slammed a grand jury's decision not to pursue criminal charges against police officer Darren Wilson.
During a press conference, Benjamin Crump and Anthony Gray labelled the process "unfair", accusing the prosecutor of having a conflict of interest.
Speaking about the information provided on the case, Crump said:
"We went through as much of it as we could and saw how completely unfair the process was. We object (as) publically and loudly as we can – and on behalf of Michael Brown Jr's family – that this process is broken. The process should be indicted."
The Brown family did not comment. Crump spoke on their behalf, saying the family rejects violence and calls for calm.
Civil Rights activist Reverand Al Sharpton called the grand jury decision "not surprising" and pushed for a thorough federal investigation.