Europe 'somewhat elderly and haggard', says Pope Francis
Comments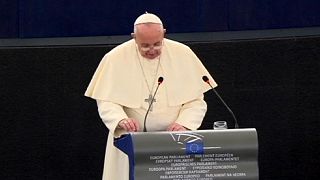 ​Pope Francis ​has compared Europe to a grandmother, warning it is viewed as being "somewhat elderly and haggard".
The pontiff, addressing the European Parliament in Strasbourg for the first time, likened the continent to​ someone no longer fertile and vibrant.
Calling for new energy, he said: "As a result, the great ideas which once inspired Europe seem to have lost their attraction, only to be replaced by the bureaucratic technicalities of its institutions."
He also called on leaders to do more to help migrants.
Pope Francis, referring to the estimated 3,200 people who have drowned this year trying to get to Europe, said: "There needs to be a united response to the question of migration. We cannot allow the Mediterranean to become a vast cemetery.
"The boats landing daily on the shores of Europe are filled with men and women who need acceptance and assistance," he added, calling on European powers to work together to protect immigrants from human traffickers.
The Pope's address comes just days after 600 migrants were rescued in the Mediterranean between Sicily and North Africa.
"Europe will be able to confront the problems associated with immigration only if it is capable of clearly asserting its own cultural identity and enacting proper legislation that protects the rights of European citizens and ensures the acceptance of migrants," added the pontiff.