Security stepped up as Strasbourg braced for papal visit.
Comments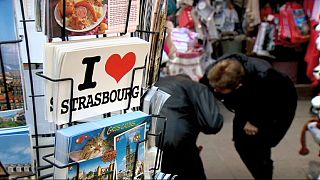 The final preparations are underway at the European Parliament in Strasbourg ahead of the visit of Pope Francis.
Workers have built special facilities outside the assembly building and security is being stepped up in around and the area.
Police are also on alert in the city centre, although the pontiff will not be turning up there.
A group of German tourists, in Strasbourg for the pope's visit, said they backed the Church's approach to social issues.
"He is doing the right things and he is very human. he is in favour of the poor," said one man.
"He is cleaning up the Church. He is making the finances open and the money goes from the church to the poor," added another.
But some MEPs have objected to the papal visit.
They say the EU institution is secular and represents all 500 million people across Europe, not just Catholics.