How race riots in the US have evolved over time
Comments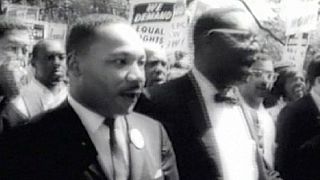 Three and a half months ago, white police officer Darren Wilson fired six bullets into unarmed black 18-year-old Michael Brown in the town of Ferguson, Missouri, killing him. Eye witnesses differed over what led up to that. Local residents sustained protests over a number of weeks. The shooter later said he had feared attack.
The Civil Rights movement to end racial discrimination against black Americans began more than 50 years ago. Martin Luther King Jr. was one of the leaders. Equality laws were enacted, but then the established black leadership's non-violent openness to negotiation experienced a backlash from younger Black Power militants. Confrontational race riots followed, in Harlem, Watts, Detroit. King was assassinated in 1968, triggering more riots in many cities, including Cleveland, Baltimore, Washington, D.C., Chicago, New York City. Limited recovery to mostly black neighbourhoods took decades.
In 1992 came the Los Angeles riots. In spite of video evidence, a jury acquitted police officers for the tazing and beating of Rodney King after a highspeed car chase. The military had to be called in to stop the riots which followed the acquittal, riots in which 53 people were killed and more than 2,000 were injured.
Another milestone explosion of public anger over the killing of a young unarmed black American came after the country's historic election of a mixed-race president. The killer was acquitted in July last year; George Zimmerman, a neighbourhood watch volunteer, in Sanford, Florida, described 17-year-old Trayvon Martin, who had just bought candy and juice at a store, as looking suspicious.
Even President Obama commented: "Trayvon Martin could have been me, 35 years ago. I think it's important to recognise that the Afro-American community is looking at this issue through a set of experiences, and a history that doesn't go away. There are very few African-American men in this country who haven't had the experience of being followed when they were shopping in a department store. That includes me."
Riots followed the acquittal again, and the tearing debate about racial profiling goes on. Obama spoke in favour of scrutinising laws to see whether they encourage confrontations and tragedies rather than defuse potential altercations.