Mexico: violent protests over 43 missing students
Comments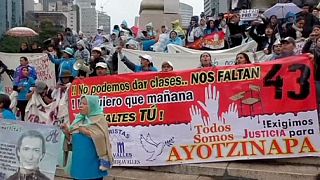 Thousands of demonstrators in Mexico City demanded authorities find 43 missing trainee teachers feared dead after clashing with police.
Riot police were hit with petrol bombs and responded with fire extinguishers.
Protesters set an effigy of President Enrique Peña Nieto on fire.
They said they'll keep up the pressure until they get some answers about the missing students.
Traditional celebrations marking Mexico's Revolution Day were cancelled. Marchers carried "mourning" flags with Mexico's red and green national colours changed to black. This was no time for festivities.
One protester said: "As I see it, the government is rotten from all the corruption, injustice, business interests, the alliance with drugs traffickers, so we have to fight this. They all need to go."
Pena Nieto has vowed that all those responsible for the missing students will be arrested.
Dozens of people including a local mayor and his wife are being held.
Prosecutors say there is evidence the gang members linked to the mayor killed the students and incinerated their remains.