Malaysia Airlines: MH370 relatives get initial compensation
Comments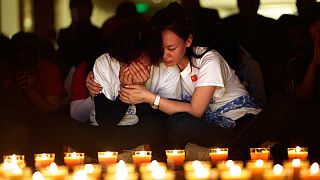 Families of those on board missing Malaysia Airlines Flight MH370 are receiving initial compensation, more than three months after the Boeing 777's disappearance.
Payments of 37,000 euros are being issued by the airline's insurer. Six Malaysian families and one Chinese family have received the cash so far. The claims of some 40 other families are being assessed.
Families of all the missing passengers and crew are eligible.
But Malaysian deputy foreign minister Hamzah Zainudin has insisted that in order for full compensation to be made "we have to wait until we announce the issue on the tragedy MH370 is over".
More than 150 of the 239 people on the plane, which disappeared en route from Kuala Lumpur to Beijing on March 8, were from China and many of their relatives are reportedly refusing any payments.They insist the focus should remain on the search which has so far come up with few answers.
Amid ongoing claims of a cover-up, families are also trying to raise 3.7 million dollars to pay for a reward for information about the plane's disappearance.
With his wife and two of his children on board MH370, Frenchman Guislain Wattrelos told French radio this week that he was convinced the plane had been hijacked and believed "something is being hidden from us".
Australia has brought in a subsidiary of Dutch multinational Fugro to map the sea bed around where the plane is believed to have crashed.
The firm says it will use its advanced survey vessel the Fugro Equator fitted with state-of-the art multibeam echosounder equipment", in an area that is "relatively uncharted".
Months of searching has failed to find any trace of the plane which investigators believe was deliberately diverted thousands of kilometres from its scheduled route before eventually crashing into the Indian Ocean.
The next phase of the search, which will be handed over from the military to the private sector, is expected to start in August and take up to a year, covering some 60,000 sq km of ocean.
The Australian Transport Safety Bureau chose a subsidiary of Fugro to perform the detailed underwater mapping necessary before that phase can begin.
The search was narrowed in April after a series of acoustic pings thought to be from the plane's black box recorders were heard near where analysis of satellite data put its last location, some 1,600 km off Australia's northwest coast.
But officials now say that wreckage from the aircraft was not in the area they had identified and that a broader area will be scoured.
The search is already the most expensive in aviation history.