Metal spikes to seemingly deter homeless cause outrage in UK
Comments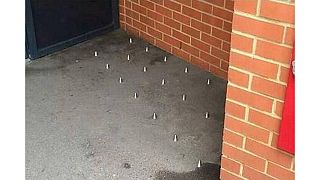 Metal spikes installed outside an apartment block in London – seemingly to deter homeless people from sleeping there – have sparked a fierce debate in the United Kingdom.
Photos were posted on social media websites of the 2.5 cm studs, which function in a similar manner to spikes used to avoid pigeons from perching on buildings.
"Pure evil" and "inhumane" were just some of the comments posted on Twitter.
One resident of the apartment block in the Southwark district of London said that a homeless man had been sleeping outside the building several weeks ago but had not returned since the spikes were fitted on the ground.
Next for Dublin? #AntiHomelessSpikes prevent people taking shelter/sitting/lying down in London. pic.twitter.com/z2TbzbYTS3

— Emma Rogan (@emmadragon) 9 Juin 2014
Despite the outrage of many, others have defended the measure. One man asked "would you like a homeless person on your front door?"
Homeless charities in the UK have said the use of metal spikes to deter homeless people have been used for the past decade and are widespread.
More anti homeless spikes....so much for community spirit pic.twitter.com/NOoariaEYd

— Ethical Pioneer (@ethicalpioneer) 7 Juin 2014