UK: Liverpool comes together to mark anniversary of Hillsborough football tragedy
Comments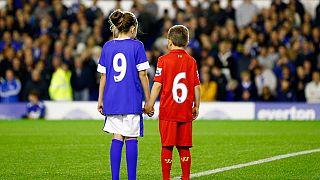 The city of Liverpool and the football fraternity has come together to remember the victims of an English stadium disaster.
It is 25 years since 96 football supporters died after a crush at Hillsborough football ground, Sheffield, on April 15, 1989.
The names of the victims – who had gone to watch the FA Cup semi-final between Liverpool and Nottingham Forest – were read out during a memorial service at Anfield, Liverpool FC's home.
Bells of Liverpool's Anglican Cathedral, and other churches in the city, were rung 96 times at 15.06 BST to mark the anniversary. That was the time, 25 years ago, the cup match was stopped as the tragedy unfolded.
The anniversary comes with fresh inquests into those who died underway. The original inquests, which returned verdicts of accidental death, were quashed in 2012 after an independent panel scrutinised evidence of how the 96 died.
There are also two investigations going on. One into how the tragedy unfolded and another, by the Independent Police Complaints Commission, on police activity after the disaster, including allegations there was a cover-up.
Brendan Rodgers, Liverpool manager, speaking at the Anfield memorial service, praised the dignity of the victims' families and told them they would "never walk alone".
Roberto Martinez, manager of Liverpool's rivals Everton, said it was not "right or fair" that 96 supporters had not returned home from watching a football match.
He added: "What happened afterwards was not right or fair either. To have to fight for the good name of the ones you lost was appalling. The authorities took on the wrong city if they thought they were going to get away with that."
Today's memorial events follow a weekend of tributes to victims of the disaster, including all matches in England kicking off seven minutes late.