UK: Reckless biker publishes spectacular crash video in bid to warn others
Comments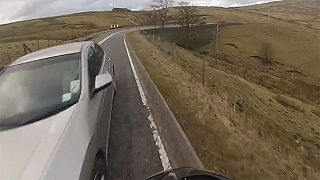 This is the terrifying moment a reckless motorcyclist narrowly avoided death – and killing others – after crashing on one of Europe's most notorious roads.
Jack Sanderson has uploaded footage of the crash in a bid to warn others of the dangers of such riding.
The crash took place in the north of England, on the Cat and Fiddle Road, between Buxton, Derbyshire, and Macclesfield, Cheshire.
The Road Safety Foundation named the road the UK's most dangerous last year. There were 44 serious or fatal crashes on road between 2007 and 2011, compared with 35 between 2002 and 2006.
Sanderson was criticised heavily online after posting the video, with many criticising the safety of his riding.
He said: "Already spoken to the police. I've paid the price for it now, and learnt from it."