Watch: Motorist, 81, causes mayhem by driving on wrong side of UK road for 16km
Comments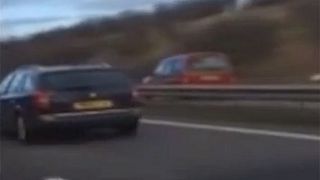 This is the terrifying moment a UK motorist drove the wrong way on a dual-carriageway for around 16km.
The incredible footage shows other drivers swerving to avoid the red car near the Suffolk and Cambridgeshire border, north-west of London.
The driver, 81, from Iford, London, began her error on the A11 road, before continuing on the wrong side of the A14.
Remarkably no-one was seriously injured and police brought the car to a stop by putting a road block in place.
Officers said the woman, who is understood to have mental health issues, would not be prosecuted.
Tom Hind, who took the footage, told Suffolk and Essex newspaper East Anglian Daily Times: "It was just horrifying. People were honking their horns and flashing lights to get her attention but she just seemed totally oblivious. We were just in sheer amazement."