Ukrainian journalists accuse police of abuse
Comments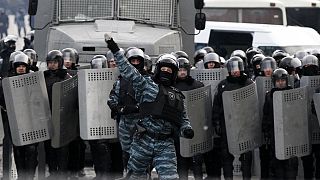 A journalist and a cameraman working for the Ukrainian service of Radio Free Europe/Radio Libery (RFE/RL) have claimed they were beaten after being detained by police in Kyiv.
The journalists were released from custody on Monday and spoke on camera about the conditions of their detention.
Correspondent Dmytro Barkar and cameraman Ihor Iskhakov were covering clashes between demonstrators and police in central Kyiv, when they were arrested by police forces, according to RFE/RL.