Japanese toast Beaujolais Nouveau by bathing in new vintage
Comments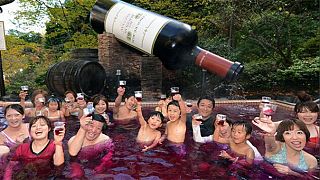 For most it's a chance to taste a new vintage and toast a cultural tradition.
But while the French and other nationalities sit back and sip this year's Beaujolais Nouveau, the Japanese have been doing things differently.
A spa in Japan, which is the biggest export market for the wine, has been hosting Beaujolais baths.
Customers at Kowaki near Tokyo have been plunging in the belief "vinotherapy" is good for the skin.
But the baths at Kowaki are not 100% wine – a violet dye is added to the water before bottles of Beaujolais are symbolically added.
This year, 603,000 cases , or about 7.23 million bottles were shipped to Japan, according to the Sapporo Beer group, importers and local distributors.
Elsewhere, as in Japan, Beaujolais Nouveau, continues to enjoy phenomenal marketing success each November. It is released on the stroke of midnight on the third Thursday of the month.
AFP</a> graphic of countries gullible enough to buy <a href="https://twitter.com/search?q=%23BeaujolaisNouveau&amp;src=hash">#BeaujolaisNouveau</a> in 2012. Meanwhile, the French laugh at you all. <a href="http://t.co/hYRwvwmiBg">pic.twitter.com/hYRwvwmiBg</a></p>&mdash; James Franey (jamesfraney) November 21, 2013