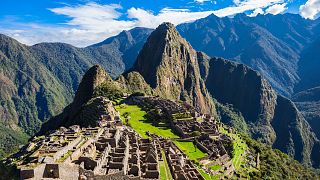 The Inca citadel of Machu Picchu has reopened to visitors, three weeks after anti-government demonstrations forced it to close.
Hidden high in the Andes, the UNESCO world heritage site is usually filled with thousands of daily visitors.
But for 25 days, the historic ruins have been all but empty.
Last month, protests over Peru's new president blocked key access routes to the site. Demonstrations are ongoing throughout the country but officials insist that the ancient monument is now safe to visit.
Tourism agencies welcomed the reopening.
Why did Machu Picchu close?
The site was closed down on January 21 - temporarily stranding several hundred travellers - due to ongoing civil unrest throughout Peru.
Former Peruvian President Pedro Castillo was ousted by Congress in December over corruption charges, and jailed on charges of rebellion and conspiracy.
He denies the charges, but Congress has sworn in his vice president Dina Boluarte.
His supporters have called for fresh elections. Boluarte nonetheless insists she will serve the remainder of the presidential term, running until 2026. Anger has mounted after more than 50 protestors died during intense policing of demonstrations.
The protests interrupted the train service that transports people and cargo from Cusco to Machu Picchu town, forcing the closure of the renowned site.
Is Machu Picchu open to tourists?
The train service has now resumed, allowing the site - built in the 15th century by the Inca emperor Pachacútec - to reopen.
The first groups of tourists entered the archaeological park early on Wednesday, taking advantage of the unusually sunny day for this season.
Some 700 tourists had come to the archaeological site as of midday, reported the Ministry of Culture.
"The capacity is 4,044 visitors a day in eight shifts from 6 in the morning to 4 in the afternoon," said Maritza Rosa Candia, director of the ministry in Cusco.
During the closure of the archaeological site, officials took the opportunity to work "on the maintenance and conservation" of the routes and passages of the stone citadel, Candia said.
Tourism is key to the Peruvian economy and an important source of employment, which before the pandemic in 2020 attracted some 4.5 million visitors per year.
Are tourism agencies restarting trips to the site?
Intrepid Travel has announced it will restart trips to Peru on March 1, with 25 trips scheduled to depart over the month.
The operator had cancelled all trips to the country from February 6-28 due to the civil unrest and protests. A total of 140 departures were cancelled.
"The impact on the tourism industry has been devastating, especially after the extremely difficult years endured during the pandemic. The tourism industry losses are expected to exceed US$400M according to the latest government data with Lima, Cusco, Puno, and Arequipa among the most impacted regions," Rodriguez said.