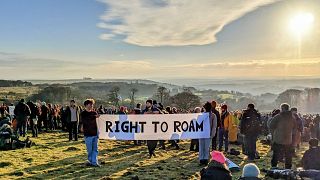 -
Wild camping is now illegal everywhere in England and Wales - but protestors aren't giving up without a fight.
Until recently, it was still possible to pitch a tent in Dartmoor national park in Devon without obtaining the permission of a landowner.
But the owner of a vast Dartmouth estate challenged this right in the High Court - and on January 13, the court ruled in his favour.
Right to Roam campaigners have slammed the ruling as a "tragedy" and promised to "go to war" to challenge it.
"[We will] launch a ferocious campaign to fight for our right to sleep under the stars," a spokesperson said on Twitter.
On Saturday, thousands of passionate locals and campaigners flooded the moor to protest the court's decision.
So what happened in Dartmoor - and where can nature-lovers camp in Europe?
What is wild camping and why has it been banned on Dartmoor?
Wild camping is the practise of camping without a permit outside official sites.
It's linked to the ability to wander freely on the commons. The Right to Roam campaign estimates that around 92 per cent of the land in England is off limits, ringed by 'no trespass' signs and fences.
Dartmoor was the last place in England where wild camping was permitted, protected under the 1985 Dartmoor Commons Act.
But Alexander Darwall - a hedge fund manager and the owner of a 1,619 hectare estate in Dartmoor - took the national park to court, arguing that the tent-pitchers had no legal authority.
The court ruled in his favour.
Responding to mass backlash, landowners have agreed to let people camp on most of Dartmoor without permission, in return for payments from the Dartmouth National Park authority.
However, Right to Roam campaigners have slammed this deal for failing to enshrine legal rights to wild camping. 
More than 3,000 people attended a protest on Dartmoor over the weekend. 
Where can you wild camp in Europe?
English wild campers have despaired of the court's decision.
But there are still plenty of other countries in Europe where it is legal.
Note that in many parts of Europe, wild camping is officially prohibited but unofficially tolerated.
So do your research before you head out into the wilderness and make sure you understand the regulations on fire-lighting, length of stay, and regional bylaws.
Norway and Sweden welcome wild campers
In the Nordic countries, wild camping is not only fully legal but encouraged, within certain rules and regulations.
In Sweden, the camping right is protected by the 'allemansrätten' - the 'everyman's right.' With roots in medieval jurisprudence, this law enshrines common access to nature. A similar law ('allemannsretten') exists in Norway.
In Norway, you can camp for two days without permission, though motorised campers are excluded. In Sweden, campers with more than two tents must request the permission of the landowner.
Scotland's lochs and mountains
Despairing English campers should hop on a northbound train.
Under the Land Reform (Scotland) Act 2003 - an influential piece of land reform legislation - visitors are allowed to camp on most unenclosed land. Note that this rule doesn't apply to certain areas Loch Lomond and The Trossachs National Park. Where possible, use a stove rather than an open fire.
From rugged mountain ranges to wild rivers, Scotland offers plenty of beautiful sights for the adventurous camper.
The Baltics for stargazing and a warm welcome
Estonia, Latvia, Lithuania have liberal public access laws, but regulations differ slightly from country to country.
Wild camping is widely permitted - but protected areas like national parks and beaches are off limits. You must obtain permission from the landowner to camp on private land.
Avoid open flame fires and do not camp near urban areas.
Parts of Europe where wild camping is partly permitted
In some countries, wild camping is partly permitted - or widely tolerated. Again, it is important to check local regulations to avoid receiving hefty fines.
France, for tent-free campers
Wild camping is permitted in some local areas (though people camping on private land need to obtain the permission of the landholder). Between 7 pm and 9 am bivouacking - camping without a tent - is allowed in national parks. The fines for overstaying this period are steep.
Wild camping is not permitted on French beaches, in national parks, and around classified historic monuments. Pitch a tent in the wrong spot and you'll be slapped with a €1,500 fine.
Spain - check local rules
Rules are local, not national. Most local authorities prohibit the practise - but it is permitted in parts of The Basque Country, Catalonia, Madrid, Castilla y León and Castilla la Mancha.
Private property is off limits, as are beaches and national parks.
Poland, for sweeping forests
Wild camping is illegal in most of Poland. But the Polish State Forest Service made wild camping legal in 425 forest areas from May 2021.