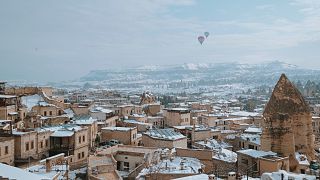 -
Nearly 4 million tourists visited Cappadocia in 2022. And who can blame them? 
Few sights on the planet can compete with hundreds of brightly coloured hot air balloons taking flight over its surreal rock formations - known as 'fairy chimneys' - at sunrise.
But the average tourist will hightail it out of Cappadocia soon after scrambling out of the woven wicker basket - and that's their loss.
Here's why you should take an additional day or two to explore beyond the clichés of this fascinating region in Turkey.
Begin with a visit to the Hair Museum of Avanos
Let's start with the basics. Cappadocia isn't actually a city, contrary to popular belief. It is a historic region located in central Anatolia and comprises five provinces: Aksaray, Nevşehir, Niğde, Kayseri, and Kırşehir.
You'll likely stay in Göreme, a town in Nevşehir and the hub of all things tourism, but a day trip to nearby Avanos comes highly recommended. Anchored in the art of pottery, it's located on the aptly named Red River, where the red clay deposits that lie on its banks have been used to make household products since the Hittite period.
Today, this translates to a laidback town that's home to pottery demonstrations, pottery workshops, and a pottery shop that has earned fame for what resides in its basement: a full-fledged hair museum.
Not for the squeamish, the Hair Museum of Avanos is located within Chez Galip and was founded by ceramic artist Galip Körükçü practically by accident. A friend of his snipped off a lock of her hair as a memento when she was getting ready to leave Avanos back in 1979. 
Other female visitors at the shop followed suit, with the hair of an estimated five million women from around the world now adorning every last inch of this subterranean space, ceilings included.
Photography isn't allowed as each 'exhibit' carries a corresponding address and handwritten note, echoing the strands that started this strange tradition.
Dig into homestyle cuisine at Uçhisar's female-run restaurant
Beyond the tourist trail is Kadıneli, a stylish little restaurant run by a women's cooperative and rooted in home-style cuisine. Located in the town of Uçhisar, its name translates to 'woman's hand', and there are plenty of those behind the scenes.
All the employees, from the cooks and dishwashers to the hostess and waitresses, are women. Brave women. 
This NGO may have been formed in order to create employment opportunities for women but Kadıneli actually faced backlash when it opened in 2015. Traditional gender roles are alive and well in Anatolia, so the idea of husbands watching the kids while the wives go off to work was practically unheard of.
Admittedly, the menu is limited, but this is a spot where quality trumps quantity. You'll dine on Turkish staples like gözleme (flatbreads stuffed with cheese or potato), yaprak sarma (stuffed vine leaves), and menemen (scrambled eggs with tomatoes and peppers). 
The homemade manti, meanwhile, is a must-order. This Turkish take on dumplings features ground lamb or beef painstakingly folded into little pieces of dough that are then boiled and crowned with garlicky yoghurt.
Stocking up on gifts to take back home? Pair a meal at this lesser-known restaurant with a pitstop at the onsite shop that sells the likes of seasonal preserves and knitted toys before burning off the calories at Uçhisar Castle, the highest point in Cappadocia.
Shop for traditional souvenirs in Göreme
Speaking of purchases that you won't regret, the streets of Cappadocia are full of souvenir stores riddled with kitsch - think magnets, miniature hot air balloons and fairy chimney ornaments. Admittedly, they're cheap and easier to pack than carpets and ceramics, but resist the urge to impulse buy.
Your cash can be better spent at Melih's Gourds, which sells intricately carved lamps made using dried gourds, Sultan's Charm, where you'll find organic soaps and luxe hammam products, and Yastik's, whose one-of-a-kind cushions are accented with cultural references - all located in Göreme.
For a souvenir that screams 'Cappadocia', albeit with a backstory that's still under debate, opt for a Soğanlı doll. Legend has it that the first of its kind was made many decades ago when a woman in the village of Soğanlı was grieving the death of her child and made a rag doll of sorts in search of some respite. Others say that these dolls have been made by local women for their children for several centuries now.
Regardless of which version is true, these handmade trinkets adorned in traditional clothing are in such demand that entire families in Soğanlı are able to make a living off them, making them a souvenir that gives back.
Walk among the world's most erotic erosion in Love Valley
Taking a slower approach in Cappadocia gives the opportunity to explore its truly otherworldly valleys. Case in point: Love Valley.
Situated just outside of Göreme, it is home to phallic-shaped pillars that many assume are manmade monuments designed to pay homage to male fertility. In fact, years of wind, water and volcanic activity are the culprits.
While you can book a jeep safari to visit several valleys in one go (offroading in Cappadocia is an adventure in itself), renting a scooter or an ATV is also an option.
The viewpoint above the valley is thankfully devoid of crowds or coachloads of tourists. More outdoorsy types prefer to trek right down to the base of these 60-foot-high structures - a self-guided hike to Love Valley and back to Göreme usually takes under three hours.
Just be sure not to venture too far past the rock formations as packs of wild dogs become increasingly aggressive once the trail starts to disappear.
Hike by moonlight among Cappadocia's fairytale rock formations
Spectacular landscapes aside, trails of varying difficulty and abandoned cave dwellings - which once sheltered early Christians fleeing Roman persecution - make Cappadocia an ideal destination for hiking enthusiasts. Red Valley is rated highly for its crimson hue and sunset spots, while Pigeon Valley conveniently connects the towns of Göreme and Uçhisar.
None, however, are as unique as Rose Valley by moonlight. Jointly hosted by Uzunetap and Argos Culture and Arts, Moonlight Cappadocia is an illuminated three-hour guided hike held monthly on the night of the full moon between April and October.
Along the way, you'll pause for freshly squeezed pomegranate juice, crawl into Crusader Church to view the detailed ceiling fresco, and even attend a candlelit musical performance in an ancient cave church with soaring columns.
As for the nocturnal perspective of all those fairy chimneys? One word: magical.