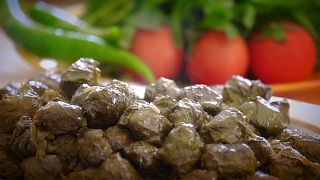 Dolma is the queen of Azerbaijan's cuisine! 
Love for the stuffed vegetable dish unites all of its regions and communities.
Popular in the Balkans, the eastern Mediterranean and the Caucasus, it's Azerbaijan's dolma tradition that is on the UNESCO intangible heritage list.
"Dolma is one of the pillars of Azerbaijani cuisine," said our reporter Galina Polonskaya.
"There are 386 different varieties in the country! Wrapping dolma is an art and everyone has their own 'little secret' about how it should be done."
The ingredients of dolma are generally rice, greens, onions, meat and a good spring harvest of vine leaves.
Local fresh natural produce is key to the success of Azerbaijani dolma, according to the experts.
The preparation of this special dish is a tradition passed on in families from one generation to the next.
"The difficulty is that it must be very small. Dolma must be elegantly wrapped. It must be round and the leaves should not open while it is being cooked," explained Jeyran Askerova, Deputy Director of the Azerbaijan National Culinary Centre.
Dolma...Who could imagine an Azerbaijani holiday table without it!