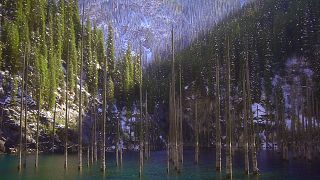 This week in Postcards an unusual sight in Kazakhstan's Almaty region: an underwater forest in the mountains.
Kaindy Lake has become famous for the birch trees that stick out of the water.
Key facts about the Kazakh region of Almaty:
The region is in the country's southeast
It shares a border with Kyrgyzstan & China
It covers an area of 225,000 sq kms
The city of Almaty is the country's largest
It is a former capital of Kazakhstan
 
Euronews' Seamus Kearney reported: "The lake was formed after an earthquake and landslide in 1911 effectively created a natural dam.
"The flooded forest was doomed, but dozens of trees continue to resist."
And what's amazing is that beneath the water the trees seem to be still growing, with lots of branches intact.
Duman Dukenbaev from the Kolsai Koldere National Park told Postcards: "The trees have been preserved because of the cold water.
"And there are tourists who go in for a swim to see this beautiful underwater forest."
Kaindy lake is almost half a kilometre long and some parts are as deep as 30 metres.
Other mountain water spots nearby are also popular with visitors, including the beautiful Kolsai lakes.
Join us for a bonus flight over Lake Kaindy, with this exclusive drone footage captured by the Postcards team: