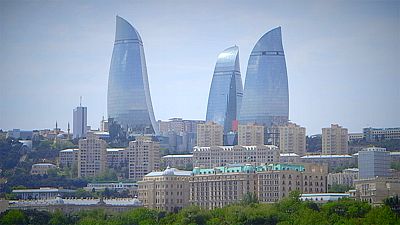 Our new series of Postcards begins in the capital of Azerbaijan, with the striking new addition to the skyline.
The Flame Towers are the city's tallest buildings, overlooking Baku Bay and the Old City.
Euronews' Seamus Kearney reported: "The name and design of the towers are linked to the ancient description of the country: the land of fire, where flames of burning natural gas rise up from the ground."
Some key facts about Azerbaijan:
Largest country in the South Caucasus
Capital is Baku; second city is Ganja
Located on Caspian Sea's western shore
Population is about 9.6 million people
Area is 86,600 square kilometres
Opened in 2013, the towers are used for a hotel, apartments and offices and the tallest has a total of 38 floors.
"We were proud to build such landmark towers, which have become the new icon of modern Azerbaijan. It's also well known all over the world now," said Murat Sener, the CEO of Daax Construction.
And there are many different views of the towers to enjoy.
Once the sun goes down more than 10,000 LED lights on the outside provide a spectacular show.