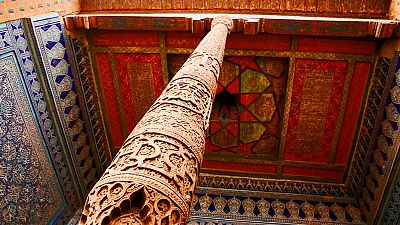 As part of our visit to Khiva in Uzbekistan, Postcards took a look at one of the ancient city's beautiful palaces, Tosh Hovli. It's a labyrinth of rooms and courtyards, including a harem, right in the heart of the UNESCO-listed city.
The palace was built in the 1830s by a former ruler, Allahkuli Khan, using wood, stone, marble and ceramics. Get up close to the some of the exquisite detail and colours with our special slideshow.

Also, check out our 360° view of the Tosh Hovli Palace.



The Tosh Hovli Palace is just one of more than 50 monuments to visit in Khiva.
Make sure you see our main Postcards video report on the Tosh Hovli, as well as other images and general information about Khiva in a separate article.
It's where the word algebra came from and is known as the 'musuem under the sky'; photos and practical info about Khiva in Uzbekistan ...

Posted by euronews on Tuesday, 12 January 2016

And don't forget to check out the video report we made on the famous Kalta Minor Minaret, one of the other iconic monuments in Khiva.