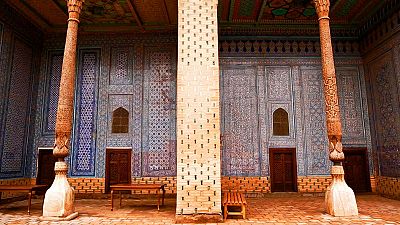 In this episode of Postcards we continue to explore the ancient city of Khiva in Uzbekistan.
Among the more than 50 monuments to visit is the exquisite Tosh Hovli Palace, with its unique design using wood, stone, marble and ceramics.
Key facts about Uzbekistan:
It's in Central Asia, with neighbours including Kazakhstan, Turkmenistan, Kyrgyzstan & Tajikistan
With a population of more than 30 million, the ex-Soviet republic became independent in 1991
The total land area is 425,400 km2, with plains covering about four fifths of the territory
The average winter temperature is -6 degrees celsius and in summer it rises above 32
Almost 80 percent of the population is Uzbek and the main religion is Muslim (88 percent)
It is a labyrinth of more than 150 rooms and courtyards, and visitors can also see the room that used to be the harem.
Euronews' Seamus Kearney reported: "The palace was built in the 1830s by the khan who ruled Khiva at the time, Allahkuli Khan.
"He actually designed the palace himself, as well as 20 other monuments inside the fortress."
Makhmud Baltaev, a Khiva guide, told Postcards: "Tosh Hovli is one of the most beautiful palaces in Khiva.
"Actually there are five palaces still remaining inside the fortress, but this is one of the best preserved."
Taking the time to meander through the small lanes and passageways in Khiva is well worth the effort, and performers also help transport visitors back in time.