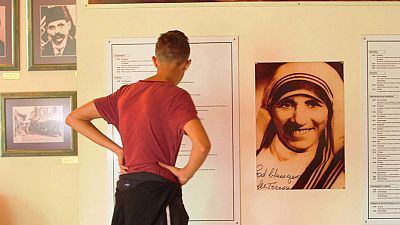 There are numerous memorials and commemorative sites around the world that pay tribute to Mother Teresa; one of them is the Mother Teresa Memorial House in Skopje, the city where she was born in 1910.
The museum, which was opened in 2009, is popular with visitors to the city. It was built on the site of the old church where Mother Teresa was baptised.
There is a large collection of Mother Teresa's personal items, including her handwritten prayer book and the sari that she wore.
There is also a good collection of photographs and documents that trace her life, from her birth into a family of Albanian descent to her life as a missionary in India.
Guides are also available to walk visitors through the exhibits.
At the opening of the museum, the Macedonian Prime Minister, Nikola Gruevski, said: "This memorial house is a temple of spirituality, humanity, and the missionary call, memories of faith, hope and love, a memorial house that bears witness to the spirit of her noble character and the messages she spread to humanity."
"The Memorial House of Mother Teresa is a synonym for the unique character and pride of Skopje, the capital of the Republic of Macedonia, and of all the people that live here – Macedonians, Albanians, Turks, Roma, Serbs, Vlachs, Bosniaks and all others."
The architect of the museum was Vangel Bozhinovski and construction work began in 2008. The building includes a chapel and multi-media centre.
Part of the museum was designed to look like an urban Macedonian house from the early 20th century.
When Mother Teresa was born in Skopje, and named Gonxha Agnes Bojaxhiu, the city was part of the Ottoman Empire and had a population of just under 40,000.
Skopje's most famous daughter left the city in her late teens to join the Order of the Sisters of Loreto. She returned to the city four times in her later life.
There are also photographs of Mother Teresa with the world leaders she befriended during her years as one of the world's most famous humanitarians.