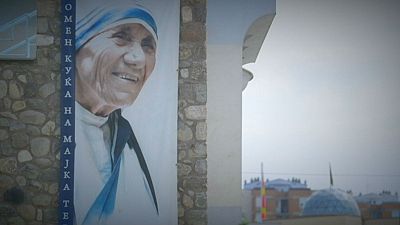 In this episode of Macedonian Postcards we visit a museum that pays tribute to Skopje's most famous daughter.
Mother Teresa was born here in 1910, and the museum was built on the site of an old church where she was baptised.
Key facts:
Neighbours are Bulgaria, Albania, Kosovo, Serbia & Greece
The total land area is more than 25,000 square kilometres
Macedonian is the main language, followed by Albanian
The country's population is more than two million
Skopje is the capital and Bitola is the 2nd largest city
Euronews' Seamus Kearney reported: "Among the many items on display here are Mother Teresa's hand-written prayer book, photos and letters, and also the sari that she wore."
Visitors can follow the entire journey of Mother Teresa, from her birth into a family of Albanian descent, and her missionary work in India, to her death and beatification.
Cvetanka Vuchkovska, the museum's curator, told Postcards: "Because Mother Teresa is the most famous person born here in Skopje we have a lot of visitors from all around the world that come to this museum, and of course a lot of pilgrims, and the number is around 100,000 per year."
The museum also has a small chapel where services are held, as well as a multi-media space for presentations that help keep the memories of Mother Teresa alive.