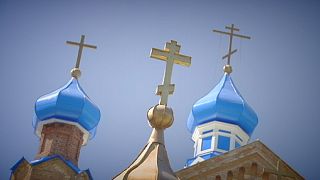 Our Postcard this week is in Biysk, in Siberia's Altai Krai region.
Key facts about the Altai Krai region:
Population is more than 2.5 million
Borders Kazakhstan and the Altai Republic
Barnaul is the administrative centre
One of Russia's most important farming areas
Part of the West Siberian economic region
Soviet anti-religion campaigns destroyed all but four of the 17 original churches here, but there is a new focus on reviving the past.
Euronews' Seamus Kearney reported from in front of one church that looks historic on first glance. "But it was actually built in 1993, an exact copy of one destroyed earlier," he said.
There is also a museum on the site of what used to be one of Russia's most important missionary centres.
Pavel Kovalenko, the Director of the Altai spiritual mission museum, told Postcards: "The complex here in Biysk is at the heart of this sacred region, and we have to revive it to protect Altai's spiritual heritage."
And hundreds of precious exhibits now bear witness to that rich history.
​Altai region official site:
www.altairegion22.ru/en
Altai tourism information:
www.altairegion22.ru/en/tourism/perspective
More info: Visit Altai