The Rio Tinto offers a "visit to Mars" to space and nature enthusiasts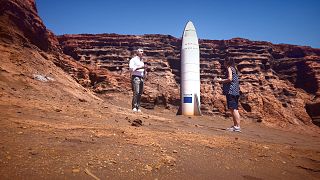 In the Hueva Region of spain, along the banks of the Rio Tinto, is Valuetur's Mars on Earth initiative. Valuetur's ambition is to promote the sharing of different countries approaches to develop sustainable tourism.
The project seeks sustainable tourism by pursuing a target of 100,000 visitors/year, according to the organisers. This tourist attraction is combined with others along the Rio Tinto and in the Portuguese regions of Algarve and Alentejo. The aim is both to educate the public on the unique landscape while respecting the natural beauty of this area.
Julio Campos Vidiella, spokesperson for Valuetur explained the common factor of these initiatives. He said the "Mars on Earth" attraction is the result of a European collaboration project between Spain, Portugal and Interreg.
"Basically it's all about sharing a methodology, a way of working, from one side of the border to the other. Based on the project's strategy, resources are identified to create a sustainable tourist destination. The goal is to link together what has been done in the Rio Tinto area and what has been done in Portugal," he says.
In Rio Tinto, in the natural area of El Camino, space agencies from all over the world have found what they need to conduct trials here to test equipment, suits, and a lot of solutions for space travel.
With the area boasting a high potential, Valuetur wanted to take advantage of it and create a tourist attraction. First by making the visitor experience a visit to Mars and then taking them to a part of Ria Formosa in Portugal, where there is a very significant natural area close to the sea and have them experience Oyster tasting by the estuary and enjoy the peaceful natural landscape.