No deadline yet for phasing out polluting cars, says EU
Comments
By Euronews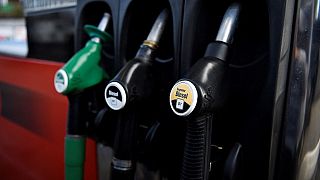 Brussels is refusing to set a clear deadline to phase out petrol and diesel cars, as it aims to achieve carbon neutrality by 2050.
Earlier in March, nine EU countries, (the Netherlands, Austria, Belgium, Denmark, Greece, Malta, Ireland, Lithuania and Luxembourg) sent a letter asking the European Commission to decide on an end date for the production and sales of internal combustion car engines in Europe.
Tim McPhie, a European Commission spokesman, told Euronews it was working towards ending the use of polluting cars, but as things stand, there is no definitive date for when.
"We are working very closely with the industries and all stakeholders to move towards much cleaner mobility in Europe," McPhie said. "We haven't put an end-date on when that has to happen."
The transport sector is responsible for a quarter of Europe's greenhouse gas emissions, according to the European Commission. It wants to reduce this figure by 90 per cent by 2050. The aim is to do this with the help of the bloc's sustainable transport strategy, which wants almost all cars to be zero-emission.
But the EU's car industry is in deep crisis. 
According to the European Automobile Manufacturers Association, production in Europe dropped by 23 per cent in one year because of the pandemic.
Euronews reached out to car industry representatives and prominent German MEPs opposed to the plan, but with no response.
However, one prominent German MEP recently said "Populist calls for bans won't help the situation."
The EU's current car emissions standard, called Euro 6, means engines are more sophisticated and less polluting, but ultimately more expensive.
Dániel Zách, a journalist at totalcar.hu told Euronews that this regulation makes things problematic for consumers.
"These engines are expensive, so new cars end up becoming more and more expensive," he said. "It is an important factor for all consumers if they want to buy a new Volkswagen Polo for €15,000 or for €20,000, for example. And until this factor counts, these dates [for phasing out] are cause uncertainty."
The EU will announce its new Euro 7 emission standards later this year, likely to come into force from 2025.
But Zách says there are other ways to cut emissions, for example, slashing the use of cars by supporting teleworking.
"In my view, this would bring a better and more secure result, and this would not disintegrate the car market with the new standards of Euro 6 and Euro 7 - which contain only limited engineering consideration."
Any breakthrough is likely to come when electrical car prices begin to fall sharply.
The EU says promoting rail and bicycle transport is also needed for the change.