In pictures: Brexit sparks delight, despair and dissent
Comments
By Euronews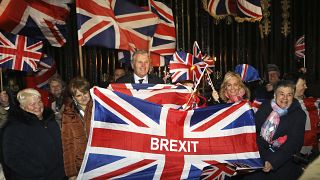 -
After more than three and a half years of a drawn-out divorce procedure, the UK and EU were officially divorced on January 31.
The day was an occasion of celebration for some and anguish for others. We take a look at how the past 24 hours unfolded.
In the heart of the EU, Brussels, supporters on both sides of the Brexit divide made their allegiance clear.
In London, pro- and anti-Brexit gatherings were also organised.
Gatherings and vigils were also held across the United Kingdom.
Celebrations and commiserations were also marked elsewhere in Europe.
Shortly after midnight on the Old Continent, the three Union Jacks flying in in EU institutions in Brussels were taken down.