Boris Johnson pledges to take Brexit bill back to parliament 'before you cook your Christmas turkey'
Comments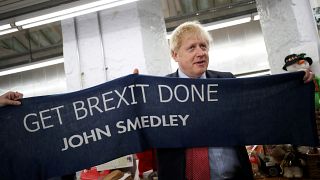 -
Boris Johnson has pledged to take his Brexit deal back to parliament before Christmas if he wins next week's snap election.
The UK prime minister, who was speaking at a campaign event in Derbyshire on Thursday, said he wanted "to do things differently" in a post-Brexit UK by maintaining free ports and controlling immigration.
He said he would also work to cut VAT on tampons and "take away cruelty to animals" by banning live exports.
Speaking at a John Smedley knitwear factory, he said: "We can get that withdrawal bill back in parliament before you cook your Christmas turkey."
Johnson later went on to criticise the "broken parliament" system currently in place, before saying he would focus on infrastructure, education and technology if his Conservative Party should win on December 12.
He said he would also focus on the UK's public services and private businesses - but all the while pushing toward environmentally friendly practices.
"We can be better and faster and cleaner and greener at the same time," he said, later adding: "Seven days to make sure we can invest in our NHS, in our schools and in our police.
"Seven days to unleash this country's potential and getting surging forward again."
The prime minister's speech came just hours after an opinion poll published Wednesday found his Conservative Party held a 10-point lead over its rival Labour Party.
The Savanta ComRes poll, which surveyed 2,041 people between December 2-3, found 42% of participants were backing Conservatives, versus 32% for Labour, and 12% for the Liberal Democrats.