The Brief: Brexit book wins 13th European Book Prize
Comments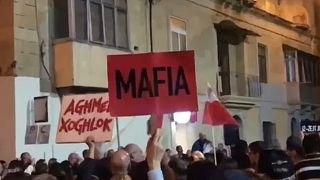 The only good news about Brexit may be the success of "Middle England," said the President of the European Parliament about the novel that won the 13th European Book Prize.
Jonathan Coe wrote about the rift in the British society after the 2016 referendum.
"One of the things that Brexit has shown is that the existing political structures, the existing political system in Britain is not meeting the needs of its citizens anymore. To be simplest if you like, what Brexit has thrown up is the incompatibility of direct democracy with representative democracy," Coe said.
French writer Laurent Gaudé could not be present to receive the prize in the essay category for his book "Nous, l'Europe: Banquet des Peuples" .
It is a poem to revive the passion about the last 150 years of European history.
"He wanted to tell the story about this Europe; to show the importance of Europe, to speak about the expectations and the hopes, to try to engage about this History, to remind us of it. He himself did an enormous research work to be able to tell it in the points of view he has chosen," publisher and former French Minister of Culture Françoise Nyssen said.
The monetary prize is 10 thousand Euros for each of the categories.
And other news in brief...
MEPs who participated in the 2-days trip to Malta came back to Brussels with concerns on the rule of law in the country.
They also welcomed Commission Vice-President Jourová's comments, stating that Malta's failure to enact judicial reforms could serve as a basis for triggering an Article 7 procedure.
"The first step would be the dialogue and we have already in March asked the Commission to start such a rule of law dialogue. Whether this involves article 7 procedure is full in the hands of the governments of Malta," said Renew MEP Sophie in 't Veld.
The MEPs claim that article 7 takes a long time and something must be done sooner. Even at the European Summit, where the Maltese PM would participate.
"Right now the problem is in the hands of the European Council. One of their members is Joseph Muscat himself, the PM who is involved indirectly for the moment in the most unbelievable murder in the recent history of the EU. So, they have to take action," GUE MEP Stelios Kouloglou said.
MEPs say that Malta's case effects EU as a whole.