Panini launches first Tour de France sticker book
Comments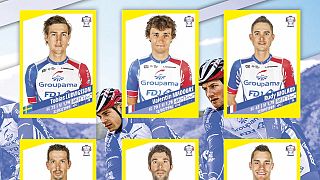 Attention cycling enthusiasts!
Panini, the Italian publisher best-known for its football sticker books, has just released a new volume for fans of the greatest cycling race in the world, the Tour de France.
The 106th edition of the prestigious race will kick off in Brussels on July 6. Twenty-two professional teams will battle it out to be crowned champion on the Champs-Elysees and to wear the highly-coveted "maillot jaune" (yellow jersey).
The new album celebrates the 100th anniversary of the yellow jersey and fans will have to acquire 352 stickers to complete it. They will feature all the athletes taking part, key stages, bikes, jerseys as well as some on the Tour's history.
As the race kicks off in the Belgian capital, the album will also pay tribute to the country's most accomplished rider Eddie Merckx. Nicknamed "The Cannibal", Merckx has won five Tours.
The company was launched in 1961 in Modena, Italy, by the four Panini brothers. The first album, dedicated to the Calcio — the country's top football league — required buyers to glue the cardboard cards. Auto-adhesive cards were introduced for the 1972/1973 season.
Panini crossed the Alps for the 1970 World Cup held in France although the first album focused on the French Ligue 1 was not launched until 1976.
Nowadays, the sticker books are available in 150 countries and cover not only football, but rugby, handball, as well as popular culture such as Disney, Marvel and Harry Potter.
Thanks to the 2018 World Cup in Russia, the company made more than €1 million in revenues last year, nearly double what it had the previous year.
With this new edition — which will cost €3.95 followed by €1 to buy five stickers — as well as the first album dedicated to the women's football world Cup, the company hopes to do just as well this year.
A Cardiff University study found last year that in order to complete the Russia World Cup album, fans would have had to fork out about €900.
You have been warned!