Italy ordered to pay Amanda Knox €18,400 in damages
Comments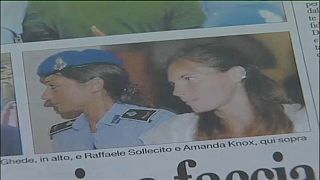 The European Court of Human Rights has ruled Italy must pay Amanda Knox €18,400 in damages, costs and expenses after Italian police had failed to provide legal assistance and a translator during questioning following the 2007 killing of her British roommate.
The court said in its ruling that Italy hadn't succeeded in proving that "the restriction of Ms Knox's access to a lawyer but had not irreparably undermined the fairness of the proceedings as a whole."
The court said US citizen Knox had been particularly vulnerable as a 20-year-old foreigner at the time, not having been in Italy for very long and not being fluent in Italian.
"Today, the European Court of Human Rights ruled that my slander conviction was unjust. I am grateful for their wisdom in acknowledging the reality of false confessions, and the need to reform police interrogation methods," Knox wrote on her blog following the EU court victory.
"I never should have been charged, much less convicted, of slander," she wrote.
In November 2007, Knox was studying abroad in Perugia, Italy, when her British roommate, Meredith Kercher, was raped and murdered.
Knox, now 31, called the police after returning to the apartment after spending the night with her boyfriend, Raffaele Sollecito, and finding Kercher's bedroom door locked and blood in the bathroom.
"I was interrogated for 53 hours over five days, without a lawyer, in a language I understood maybe as well as a ten-year-old. When I told the police I had no idea who had killed Meredith, I was slapped in the back of the head and told to 'Remember!'" wrote Knox in her blog post.
Knox was found guilty and sentenced to 26 years in prison. Her then boyfriend Sollecito was sentenced to 25 years.
However, US forensic experts argued the evidence at the crime scene was incompatible with her involvement.
Knox spent nearly four years in an Italian prison following her conviction before being acquitted and freed in 2011.
Italy's highest court definitively exonerated Knox and Sollecito on March 27, 2015 and convicted Rudy Guede of the crime.
"In early November 2007, I was studying abroad in Perugia, Italy, when a local burglar named Rudy Guede broke into my home and raped and killed my friend and roommate, Meredith Kercher. I was in shock, and I volunteered to help the Perugian police in any way I could. But they weren't interested in my help. They were determined to break me," Knox wrote.