Amanda Knox: 'Joy' as murder conviction overturned
Comments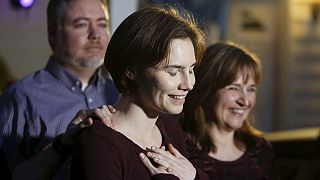 Amanda Knox has spoken of her joy after Italy's Supreme Court overturned her conviction for the 2007 murder of British student Meredith Kercher.
In a surprise move, a five-judge panel threw out the second guilty verdict against the 27-year-old American and her Italian former boyfriend Raffaele Sollecito.
"I'm incredibly grateful for what has happened, for the justice I've received, for the support I've had from everyone: from my family; from my friends; to strangers; to people like you (the press)," said Knox. "You've saved my life and I'm so grateful to have my life back… I'm still absorbing the present moment, which is full of joy. Thank you."
Sollecito was in Italy for Friday's verdict, while Knox awaited the decision in her hometown of Seattle. Both have long-maintained their innocence.
The court also decided not to order another trial meaning, legally, only one man is considered guilty of Kercher's murder – Ivory Coast national Rudy Guede. Judges initially ruled he had not acted alone. In 2008, Guede was jailed for 30 years following a fast-track trial. His sentence was later slashed to 16 years.
Meredith Kercher
In 2014, the Kercher family had said they were confident in the Italian legal system. But speaking after the acquittal, their lawyer said justice had suffered "a defeat."
"It's a defeat," said Francesco Maresca. "Not only for us, but also for Italian justice. Because the judges have said they have found no evidence and there is no name for the accomplice of Rudy Guede."
London-born Kercher was 21 and beginning an ERASMUS year in Perugia, central Italy, when she was brutally murdered.
She was found dead in the apartment she shared with Amanda Knox. Her throat had been slit and there was evidence she had been sexually assaulted.