Italy: Knox and Sollecito await court ruling over Meredith Kercher murder
Comments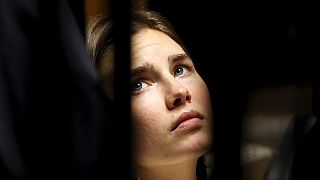 After years of legal twists and turns, Italy's highest appeals court is set to rule on Friday on whether to uphold the conviction of American Amanda Knox and her ex-boyfriend Raffaele Sollecito for the murder of British student Meredith Kercher.
Both Knox, now 27, and Italian Sollecito, 30, have maintained their innocence during a process which saw them first convicted in 2009.
That ruling was overturned and both were freed from jail – Knox returning to the US where she remains despite being convicted for a second time last year in a new trial ordered by the Italian legal system.
Also reconvicted, Sollecito has attended the latest hearings at the Court of Cassation in Rome into Meredith Kercher's brutal killing in 2007.
The 21-year old exchange student was stabbed to death in a house she shared with Knox in Perugia in central Italy.
The case has inspired books and films and riveted media attention for almost eight years.
The Kercher family's lawyer Francesco Maresca has said in court that he had represented them in the case multiple times and hoped this would be the last.
The court might, however, overturn the conviction and then order yet another trial.
It could also acquit the two – but legal experts said that option was unlikely.
If the verdict is upheld and the sentence confirmed, Sollecito faces more than 24 years behind bars and Knox 28 years.
Sollecito, whose passport has been withdrawn, could be arrested.
Italy could then formally ask the United States to extradite Knox to serve her sentence.
Washington has refused to send military personnel to serve sentences in Italy in the past, but sparing a private citizen from extradition would be an "anomaly", Pier Luigi Petrillo, Professor of Comparative Law at Rome's LUISS university, said.
"If an American citizen has been found guilty of a crime and in particular a serious crime such as murder on Italian soil, there is an obligation by the United States to extradite the American citizen," Petrillo said.
Knox, who did not attend last year's trial, has vowed to fight the conviction and said she would not willingly return to Italy.
Ivory Coast-born Rudy Guede is serving a 16-year jail sentence for the crime after a separate trial. Judges ruled he did not act alone.