Air pollution levels still exceed healthy limits in Europe
Comments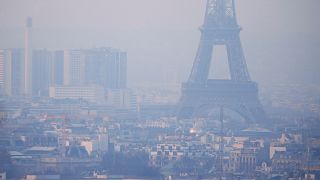 Air pollution is called the invisible killer and health organisations are sounding the alarm bell.
The European Environment Agency has released a report saying that 500,000 premature deaths can be linked to the toxic air we breathe.
According to their findings, it is the main cause of premature death in 41 European countries. It also comes as the World Health Organisation (WHO) reports on the numbers of child deaths and illnesses linked to poor air quality.
"Every day, now the moment we are talking, almost 93 percent of the children worldwide are breathing toxic air. And this has terrible health consequences. Not only the fact that 600,000 of them die every year because of lower respiratory infections," explains Dr Maria Neira, WHO Director for Public Health and Environment.
The main polluters are road transport, energy production and distribution, industry and agriculture.
Although the findings are alarming, the EEA also said that there was some progress, and that deaths due to air pollution were on the decline.