More than 90% of the world's children breathe toxic air every day, WHO report says
Comments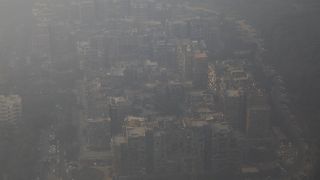 More than 90% of the world's children breathe toxic air every day, according to a World Health Organization report.
The report was launched on Monday, before WHO's first ever Global Conference on Air Pollution and Health, which opened today in Geneva.
According to the report, about 600,000 children were estimated to have died from acute lower respiratory infections caused by polluted air in 2016.
The UN organization says that air pollution causes 1 in 9 deaths worldwide.
They also estimate that around 7 million people die every year from exposure to fine particles in polluted air that lead to diseases such as stroke, heart disease or lung cancer.
WHO says that the conference in Geneva "will provide the opportunity for world leaders; ministers of health, energy, and environment; mayors; heads of intergovernmental organizations; scientists and others to commit to act against this serious health threat,"
Christiana Figueres, former Executive Secretary of the UN Framework Convention on Climate Change told Good Morning Europe that she would like to see a "growing social intolerance with air pollution."
"We have to get over the fact, that we have coal stations that are still spewing their pollution into the air very close to cities, we have to get over the fact that we have used the internal combustion engine in vehicles for a hundred years and it is time to move beyond those outdated, obsolete technologies into other technologies, for energy, for electricity, for transportation, that are not polluting," Figueres added.