'Superheroes' call for second Brexit vote in London protest
Comments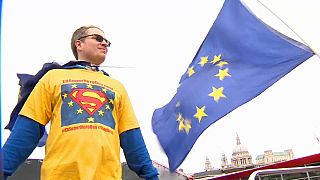 They are hoping their show of superhero strength will keep Britain in the EU. With a year to go until the official divorce, anti-Brexit campaigners – donned in cartoon character costumes – have been venting their views from an open-top red bus in London.
Euronews' Damon Embling reported from the campaign bus: "This is a small, but vocal group of anti-Brexit campaigners that are taking to the streets of London today. And their message is very clear – let's celebrate all that's good about the EU and get a second vote, on Britain's divorce deal."
Among them was Madeleina Kay, a campaigning cartoonist and musician.
"I care about this country and I care about the people in the UK, some who voted for Leave and some who voted for Remain, because Brexit is going to damage the country for all of us and take away opportunities from young people," she told Euronews.
When challenged on the small number of campaigners on the bus, Kay replied: "This is about as many as I was expecting to be honest."
Red buses have a habit of turning up in Brexit politics in Britain. Leave campaigners were accused of misleading the public - after splashing a controversial cash promise on the side of one in the run-up to the referendum.
But it was the Brexiters who ultimately won, netting 52 percent of the vote. And some watched the Thursday's London protest with bewilderment.
"Naive. Yes, very naive," said one Brexit supporter, commenting on the bus protest, "they don't understand, they've probably not been around long enough to understand what it's like to be out of Europe – and we do, so we know."
Whatever happens, the anti-Brexit campaigners want to hold an annual EU Superhero Day – hoping to counter Eurosceptic forces.