Parisians far from happy with prospect of Brexit
Comments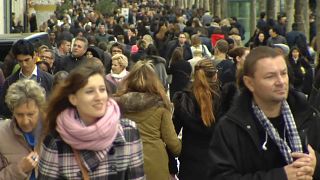 The French are hardly reacting with a Gallic shrug to the impending exit of Britiain from the EU. With just a year to go, some Parisians are taking Brexit very seriously, and everyone seems to regret it.
"There's no way of hiding the fact it's a failure. One of Europe's major nations is going. Of course it's a failure," said one man.
Another thought it was far from being a done deal.
"The process is going to take years. There will certainly be attempts to bury or disguise it, to try and make the softest exit possible."
One woman expressed what seems to be the thoughts of many.
"I think it's a real regression for Europe, really."
While another refused to get stuck in the present, and preferred to make a forecast.
"I'm a little saddened for the future of Europe, but I'm hoping it will spur a reaction from our British neighbours and that will be a renewal for Europe as well."