EU's Barnier warns against 'painless' Brexit 'illusion
Comments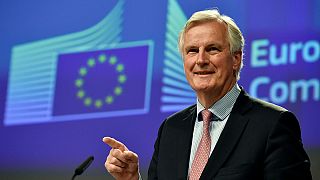 It is an "illusion" to think that Britain's exit will be "concluded quickly and painlessly", the bloc's chief Brexit negotiator said on Wednesday.
"Some have created the illusion that Brexit would have no material impact on our lives or that negotiations can be concluded quickly and painlessly. This is not the case," Michel Barnier told reporters in Brusssels as the European Commission published a draft legal mandate for the Frenchman to negotiate on behalf of the EU27.
"We need sound solutions, we need legal precision and this will take time."
Barnier said that he would only focus on issues such a financial settlement, the status of expatriate citizens and preventing the return of a hard border between the and Ireland.
He added that the financial settlement is "not a punishment" or a "Brexit bill", but a "settling of accounts" that would cover commitments made by Britain during its time as an EU member.
"The UK must put a great deal of energy and effort into these three issues over the next weeks and months and that will increase the chances of making a deal," said Barnier.
The former EU commissioner said that he hoped to move on to the next phase of the Brexit talks, which would deal with Britain's future relationship with the bloc.
His legal mandate to represent the 27 remaining EU governments is expected to be approved on May 22.
There are expected to be no substantial Brexit talks, however, until after the UK general election on June 8.