EU leaders approve tough terms for Brexit talks
Comments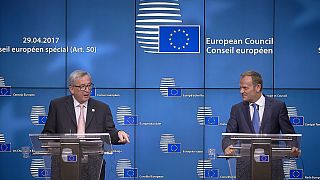 EU leaders have approved negotiating guidelines for Britain's exit from the bloc at a special summit in Brussels.
Showing unity at a time of adversity, they say the fate of the million of citizens affected is their top priority.
"We need real guaranties for our people to live, work and study in the UK, and the same goes for the Brits," said European Council President Donald Tusk.
"The Commission has prepared a full list of rights and benefits that we want to guarantee for those affected by Brexit. In order to achieve sufficient progress, we need a serious British response.
"I want to assure you that as soon as the UK offers real guaranties for our citizens, we will find a solution rapidly."
A multi-billion euro divorce bill for Britain will also be another big issue on the table.
That much-talked about unity may start to fray.
"I don't see a danger that this unity will be broken. But it is obvious that, as we move forward in debates between us, when budgetary questions arise, we will have problems. There will be those who don't want to pay more and those who don't want to receive less," said European Commission President Jean-Claude Juncker.
The Brexit guidelines rule out discussing a free trade deal -sought by British Prime Minister Theresa May – until the EU sees progress on agreeing key withdrawal terms.
German Chancellor Angela Merkel commented: "I have said nobody ought to harbour any illusions, because I have sometimes the feeling as if those phases, the first phase of separation and the phase of shaping the future relationship, that sometimes, some people in Britain, and don't necessarily mean the government, have not really understood that there is this clear distinction.
"So I have an opportunity to say that there's no conspiracy against Britain."
It is down to EU negotiator Michel Barnier to hammer out a deal. The formal Brexit negotiations will now start after the UK's snap election in June.